Steel Pipes & Tubes Manufacturers, Suppliers & Exporters in Saudi Arabia
Manufacturers & Exporters of Steel Pipes & Tubes in Stainless Steel, Carbon Steel, Alloy Steel, & Nickel Alloys

100% Quality Guaranteed, with Competitive Prices – PED Certified, ISO Certified, Major TPI and Approvals, OHSAS Certified

Steel Pipes, Seamless Pipes, Welded Pipes, ERW Pipes, Galvanized Pipes, LSAW Pipes, Spiral Welded Pipes, Square Pipes, Rectangular Pipes, Coated Steel Pipes, Carbon Steel Pipes, Stainless Steel Pipes, Alloy Steel Pipes
Metline is a professional manufacturer & exporter of steel pipes in Saudi Arabia, with annual sales volume of steel pipes reaching over 20,000 tons. We stock large quantity of stainless steel pipes, carbon steel pipes and alloy steel pipes for export to Saudi Arabia. Our extensive stocks helps us ensure fast delivery of goods to our customers in Jubail, Yanbu, Jeddah, Riyadh and Dammam, the biggest industrial and commercial cities of Saudi Arabia. . If you want to buy or import best quality steel pipes, seamless steel pipe, round steel tubes, square steel tubes, cold drawn steel tube, carbon steel tube at best prices, please feel free to contact us.

Seamless Pipes & Tubes – Industrial Seamless Pipe, Boiler & Heat Exchanger Tube, Condenser Tube, U-Bend Tube, Coiled Tube, Bright Annealing Tube, Mechanical & Structural Tubing, High Precision Tube, Sanitary Tubing

Welded Pipes & Tubes – Industrial Welded Pipes, Large Diameter Welded Pipes, Boiler & Heat Exchanger Tube, Sanitary Tubing, Mechanical & Structural Tube, Square & Rectangular Tube, Capillary Tubing

In stainless steel, we stock and supply steel pipes in every standard and commercially available lengths according to your requirements. We are manufacturers and supplier of stainless steel welded pipes, stainless steel seamless pipes, large diameter fabricated pipes, stainless steel condenser tubes, and stainless steel heat exchanger tubes.

We specialize in the export and supply of alloy steel seamless pipes in Grade ASTM A335 P5 and ASTM A335 P9 for our oil and gas customers in Middle East, Iraq, and Africa region. ASTM A335 P5 and P9 pipes are mainly sold in sizes upto 36″, in seamless type. All our products are supplied with mill test reports, as per EN 10204 3.1.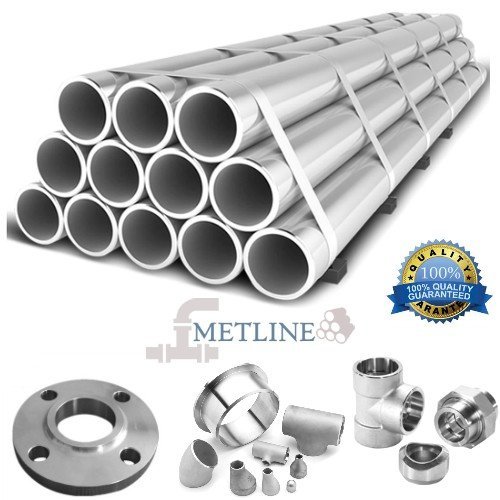 Are You Looking for Steel Pipe & Tubes Exporters to Saudi Arabia?
We are one of the largest steel pipe manufacturer, supplier and exporter to Saudi Arabia. We welcome you to contact us and send us your requirements. Metline specialises in export of carbon steel, stainless steel, and alloy steel pipes to various countries. We can offer CIF, Ex-Works, DDP delivery terms. We offer the most competitive prices for steel pipes and pipe fittings for our customers in Saudi Arabia.
Stainless Steel, Carbon Steel & Alloy Steel Pipes Manufacturing & Supply Range
Production Details – Stainless Steel, Carbon Steel & Alloy Steel Pipes
Outer Diameter
Round Seamless Pipe : 6~710mm
Square Seamless Pipes : 10mm x 10mm – 400mm x 400mm
Rectangular Seamless Pipes: 10mm x 20mm -200mm x 400mm
Wall Thickness
Round Welded Pipes: 1.0 – 50.00 mm
Square Welded Pipes:1.0mm-20mm
Rectangular Welded Pipes: 0.6mm-20mm
Length
2m – 5.8m, 6m, 12m
Material Grades & Specifications
ASTM A312, A213
304, 304L, 304H, 304N, 316, 316L, 316Ti, 317L, 310S, 321, 321H, 347H, S31803, S32750, 347, 330, 825, 904L
API5L PSL1 & PSL2
GR.B, X42, X46, X52, X56, X60
API 5L (44th edition) Appendix H
BNS (L245NS), BQS(L245QS), X42NS(L290NS), X42QS(L290QS), X46QS(L320QS), X52NS(L360NS), X52QS(L360QS), X56QS(L390QS), X60QS(L415QS)
API 5CT
J55, K55, N80-1
ASME SA106/ASTM A106
Grade A, Grade B
ASME SA333/ASTM A333
Grade 6
ASME SA53/ASTM A53
Grade A, Grade B
ASME SA213/ASTM A213
T2, T5, T9, T11, T12, T22, T91, T92
ASME SA335/ASTM A335
P1, P2, P5, P9, P11, P12, P21, P22, P91, P92
ASME SA519/ASTM A519
1010, 1020, 1026, 4140, 1045, 4130
DIN 2391
St 35, St45, St52
DIN 17175
St35.8, St45.8, 15Mo3
EN 10297-1, 2
E235, E275, E315, E355, E470
EN 10210-1, 2
S235, S275, S355
EN 10255
S195T
EN 10216-1
P195TR1, P195TR2, P235TR1, P235TR2, P265TR1, P265TR2
EN 10216-2
195GH, P235GH, P265GH, 20MnNb6, 16Mo3
EN 10216-3
P355N, P355NL1, P355NL2
Delivery Condition
Formed, Normalized, Normalized and Tempered, Quenched and Tempered, (Annealed & Pickled for Stainless Steel Pipes)
Finish of pipe
Hot Rolled No.1 Mill Finish, Polished, Mirror, Matte, 240 Grit, 400 Grit, 500 Grit for Stainless Steel Pipes
Hot dipped galvanized with zinc 200~260g/m2;
Pre-Galvanized with zinc 30~150g/m2
Painted with Black/Varnish Lacquer
Oil on the Surface to Prevent Rust
Bare Pipe without Painting
Epoxy Painting, FBE Coating, 3PE Coating
Pipe End
Plain End/ Bevel End
Groove End
Ends Joint with Flange or Fittings
Threaded on Two Ends, One End with Coupling, One End with Plastic Cap
Marking
As Per Client Requirements or Mill Standard
Painting Method: Spray White/Black Paint
Packing
OD Not Less Than 273mm: Loose Packing – Piece by Piece
OD less than 273mm – In Hexagonal Seaworthy Bundles Packed by Steel Strips
On Request Small Sizes May be Nested into Big Sizes
Production Method
Seamless, Hot Rolled, Cold Drawn, Heat Treated, Impact Tested
Trade Term
FOB, CFR, CIF, EXW
Payment Term
T/T, LC
Delivery Time
15-45 days (based on quantity) after receiving advanced payment by T/T or LC
Metline is a professional steel pipes and tubes manufacturer with extensive experience to export goods to any port across the globe. We produce and sell xarbon steel pipes (CS Pipes), alloy steel pipes (AS Pipes) and stainless steel pipes (SS Pipes) in size range of out diameter 21.3mm-660mm, wall thickness 2.5-35mm and length up to 12 MTR. Additionally, we also manufacture and supply API Standard Steel Pipes, ERW, LSAW and SSAW with or without Fusion Bond Epoxy Coating, Coal Tar Epoxy, Polyamide Epoxy, Polyamide Epoxy, 3PE, 3PP, Hot Dipped Galvanized, Bitumen, Varnish Coating.
Steel Pipes & Tubes Manufacturing Specifications & Grades
Materials
Seamless Steel Pipes & Tubes
Welded Steel Pipes & Tubes
Carbon Steel Pipes & Tubes
ASTM A106, ASTM A53, ASTM A210, ASTM A333, ASTM A519, ASTM A179
OD: 10.3 – 830 mm, Thickness: 1.7 – 70 mm
OD: 10 – 2600 mm, Thickness: 3 – 30 mm
ASTM270
BS 1387; EN 10297; EN 10355
DIN 2391; DIN 17175; DIN 1629
API 5L GRB, X42, X46, X52, X56, X60, X65
JIS 3444; JIS 3466; JISG 3445; JISG3454; STPG 370
Alloy Steel Pipes & Tubes
ASTM A335; P5; P9; P11; P22; P91
OD: 1/8″ – 28″, Thickness: SCH10 – SCHXXS
OD: 1/8″ – 28″, Thickness: SCH10 – SCH40
ASTM A333, Gr. 6
Stainless Steel Pipes & Tubes
ASTM A312, ASTM A213, ASTM A249, ASTM A268, ASTM A269, ASTM A554, ASTM A789
OD: 6 – 762 mm, Thickness: 0.5 – 50 mm, OD Size Tubes & Tubing: 1/8″ – 6″
OD: 6 – 2600 mm, Thickness: 0.3 – 30 mm
TP 304; TP 304L; TP 316; TP 316L; TP 321; TP 317L; 309S; 310S