Alloy Steel Pipe Manufacturers, Chrome Moly Pipe Manufacturers & Exporters
Manufacturers of Alloy Steel Pipes or Chrome Moly Pipes (ASTM A335 P5, P9, P11, P22, P91, P92)

100% Quality Guaranteed, with Competitive Prices – PED Certified, ISO Certified, Major TPI and Approvals, OHSAS Certified

Alloy Steel Seamless Pipes, High Temperature P5 & P9 Seamless Pipes, Alloy Steel Welded Pipes, ERW Pipes, ASTM A335 P11 Seamless Pipes, ASTM A335 P22 Pipes, ASTM A335 P91 Pipes, ASTM A335 P5 Pipes, ASTM A335 P9 Pipes, Alloy Steel Pipes for Power Generation, Alloy Steel Pipes for Refineries, Oil & Gas Applications
ASTM A335/ASME SA335 Gr. P5, P9, P11, P22, P91 Pipes– As a leading exporter and supplier of alloy steel or chrome moly pipes, we sell 2000-3000 tons steel pipes per year, including the steel pipes for the high, medium and low pressure boilers. We specialize in selling chrome moly steel heat exchanger tubes, alloy steel boiler pipes, and high pressure alloy steel pipes in Saudi Arabia. In alloy steel, ASTM A335 P11, P22, and P91 pipes are used in power generation and in downstream oil and gas, while P5 and P9 grades are for refinery applications.

With a collective experience of over 30 years, we have emerged as one of the largest just in time exporter of ASTM A335 P5, P9, P11, P22 and P91 alloy steel pipes worldwide. Alloy steel pipes are used in the energy industry for high temperature and very low-temperature service (cryogenic), or for applications with very high pressures. ASTM A335 alloy steel pipes are used in conjunction with ASTM A234 WPx series buttweld fittings (WP5, WP9, WP11, WP22, WP91) and A182 Fx forged fittings and flanges (A182 F5, F9, F11, F22, F91). All these materials have similar chemical (Chrome, Moly, Nickel) and mechanical properties and can be easily welded and installed on site.

We have manufacturing set up, sales and export offices in both India and China to meet the immediate and long term alloy steel pipe requirements across the globe. We aim at offering high quality but competitive price chrome moly pipes for our global customers. The benefits of alloy steel pipes include its tensile strength, yield strength, fatigue resistance, toughness, and wear resistance. We deal in all grades of alloy steel pipes including Chrome Moly Pipe, Low Temperature Pipe, ASTM Standards, EN10216, ASTM A213, ASTM A335, ASTM A333, ASTM A519, and DIN 17175.

If you are satisfied with our seamless alloy steel pipe ASTM A335 P5, P9, P11, P22, and P91, please be free to place orders with our factory. Our company is one of the leading manufacturers and suppliers worldwide. We have many quality products for sale at your choice. Welcome to enjoy our competitive price and service.
Professional Manufacturer of Alloy Steel Seamless Pipes and Tubes, U-Tubes, Alloy Steel Seamless Pipes and Tubes
Welded Alloy Steel Pipe, Size Range: 1/8″ to 48″
Seamless Alloy Steel Pipes, Size Range: 1/8″ to 48″
Thickness – SCH 20, 30, 40, STD, XH, 80, 100, 120, 140, 160, XXH, WT is 2.11mm – 40mm
Additional Services: Fusion Bond Epoxy, Galvanizing, 3LPE, Tar Epoxy
Alloy Steel Pipe Grades: ASTM A335 P5, P9, P11, P22, P91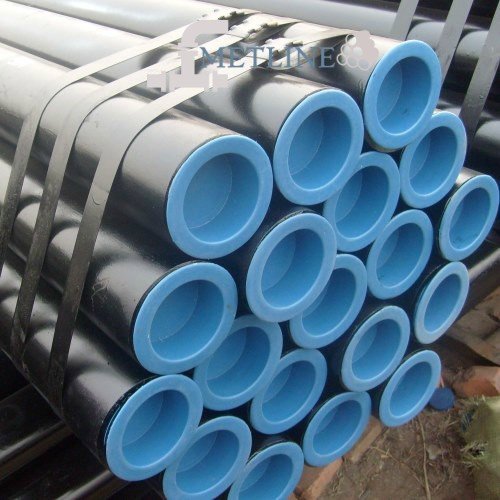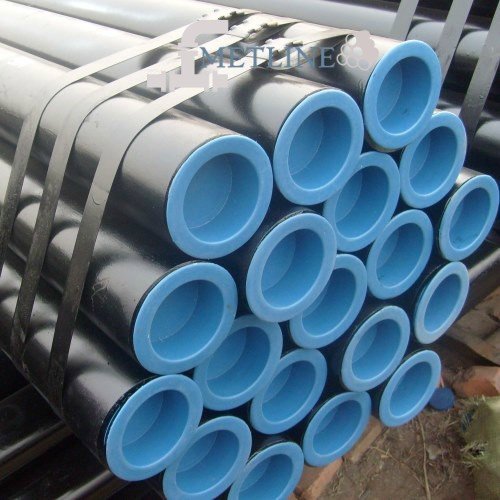 | | |
| --- | --- |
| Product | Alloy Steel Seamless Pipe |
| Specification | ASTM A335, ASME SA335 |
| Grades | P5, P9, P11, P22, P91, P92 |
| Size | 2″ to 48″ |
| Thickness | 2.11 mm to 160 mm |
| Type | Seamless, Hot Rolled, Cold Drawn |
| Test Certificates | EN 10204 3.1 |
| Length | 6 MTR, 12 MTR, Custom |
Alloy steel pipes are tubular with higher percentages, than standard carbon steel pipes, of alloying elements as Molybdenum (Mo), Chromium (Cr), Nickel, etc. Actually, the ASTM A335 covers "low-alloy" steel pipes, i.e. pipes that have a total amount of alloying elements below 5%. The addition of higher percentages of alloying elements (example Nickel and Chromium) transforms the steel into higher alloys, like stainless steel, duplex, up to super-alloyed materials like Inconel, Hastelloy, Monel, etc.
Alloy steel pipes are used in the energy industry for high temperature and very low-temperature service (cryogenic), or for applications with very high pressures.
Are You Looking for Alloy Steel Pipe & Tube Manufacturers, Suppliers?
We are one of the largest alloy steel pipe seamless manufacturer, supplier and exporters. We welcome you to contact us and send us your requirements. Metline specialises in export of alloy steel ASTM A335 P5, P9, P11, P22, P91 pipe suppliers. We can offer CIF, Ex-Works, DDP delivery terms.
ASTM A335 is a standard specification for seamless ferritic alloy-steel pipe for high-temperature service. The specification generally covers "chrome-moly" seamless pipes with remarkable resistance to corrosion and good tensile strength at high-temperature service. The testing requirements for these pipes include the following:
Transverse/longitudinal: tension and flattening, hardness, bend tests- for material which has been heat-treated in batch furnaces, these tests shall be made on the 5% of the pipes from each heat lot number. For smaller lots, one pipe at a minimum has to be tested
ASTM A335 Gr. P91 shall have a hardness of 250 HB / 265 HV (25 HRC)
Hydro testing: Each length of pipe shall be subjected to the hydrostatic test. Also, each pipe shall be examined by a non-destructive examination method in accordance to the required practices.
The non-destructive electric test is optional
Alloying Elements of Steel and Its Impact on Properties of Alloy Steel Pipes or Chrome Moly Pipes:
Chromium – Adds hardness. Increased toughness and wear resistance.
Cobalt – Used in making cutting tools; improved Hot Hardness (or Red Hardness).
Manganese – Increases surface hardness. Improves resistance to strain, hammering & shocks.
Molybdenum – Increases strength. Improves resistance to shock and heat.
Nickel – Increases strength & toughness. Improves corrosion resistance.
Tungsten – Adds hardness and improves grain structure. Provides improved heat resistance.
Vanadium – Increases strength, toughness and shock resistance. Improved corrosion resistance.
Chromium-Vanadium – Greatly improved tensile strength. It is hard but easy to bend and cut.
Equivalents of Alloy Steel Pipes Under DIN, ASTM and EN
| | | |
| --- | --- | --- |
| DIN | EN | ASTM |
| 1.5415 | 16Mo3 | A335 Grade P1 |
| 1.7335 | 13CrMo4-5 | A335 Grade P11, P12 |
| 1.738 | 10CrMo9-10 | A335 Grade P22 |
| 1.7362 | X11CrMo5 | A335 Grade P5 |
| | | A335 Grade P9 |
| 1.4903 | X10CrMoVNb9-1 | A335 Grade P91 |
Chemical Composition of Alloy Steel Chrome Moly Pipes – ASTM A335 P5, P9, P11, P22, and P91
| | | | | | | | |
| --- | --- | --- | --- | --- | --- | --- | --- |
| Grade | C | Mn | P | S | Si | Cr | Mo |
| P5 | 0.15max | 0.30-0.60 | 0.025 | 0.025 | 0.50 max | 4.00-6.00 | 0.45-0.65 |
| P9 | 0.15 max | 0.30-0.60 | 0.025 | 0.025 | 0.25-1.00 | 8.00-10.00 | 0.90-1.10 |
| P11 | 0.05-0.15 | 0.30-0.60 | 0.025 | 0.025 | 0.50-1.00 | 1.00-1.50 | 0.44-0.65 |
| P22 | 0.05-0.15 | 0.30-0.60 | 0.025 | 0.025 | 0.50 max | 1.90-2.60 | 0.87-1.13 |
| P91 | 0.08-0.12 | 0.30-0.60 | 0.02 | 0.01 | 0.20-0.50 | 8.00-9.50 | 0.85-1.05 |
| | V 0.18-0.25 | N 0.03-0.07 | Ni 0.40 max | Al 0.02 max | Cb 0.06-0.10 | Ti 0.01 max | Zr 0.01 max |
Mechanical Properties of Alloy Steel Chrome Moly Pipes – ASTM A335 P5, P9, P11, P22, and P91
| | | |
| --- | --- | --- |
| | Grade P11, P22, P5, P9 | Grade P91 |
| Tensile strength, min, psi, (MPa) | 60,000 (415) | 85,000 (585) |
| Yield strength, min, (MPa) | 30.000 (205) | 60,000 (415) |