ASTM A179 Seamless Tube Manufacturers, Suppliers & Exporters in Ethiopia!
Manufacturers of Cold Draw Seamless A179 Tubes – Top Quality A179 Heat Exchanger & Condenser Tubes at Best Prices

100% Quality Guaranteed, with Competitive Prices – PED Certified, ISO Certified, Major TPI and Approvals, OHSAS Certified

A179 Carbon Steel Tubes Suppliers in Ethiopia, A179 Tubing Manufacturers, A179 Heat Exchanger Tubes, ASTM A179 Cold Drawn Seamless Tube, A179 Tube Suppliers, A179 Low Carbon Steel Tube, A179 Heat-Exchanger Tubes, ASTM A179 Condenser Tubes, ASME Sec.II SA-179 Seamless Tube, ASME SA179 Seamless Tubes
As a leading exporter and supplier of A179 seamless tubes in Ethiopia, we specialize in selling ASTM A179 heat exchanger tubes, SA179 boiler pipes, A179 super heater tubes, and A179 condenser tubes. ASTM A179/A179M, ASME SA179/SA179M is the standard applicable to seamless cold drawn low carbon steel heat exchanger and condenser tubes.

With a collective experience of over 30 years, we have emerged as one of the largest just in time exporter of ASTM A179 tubes to our customers in Bahir Dar, Gondar, Mek'ele, Dire Dawa, Addis Ababa, Awasa, Dessie, Jimma, Jijiga, Shashamane among others

.

 ASTM A179/ASME SA179 Tubes shall be made by the seamless process and shall be cold drawn. ASTM A179/ASME SA179 Tubes shall be heat treated after the final cold drawn pass at a temperature of 1200°F [650°C] or higher. ASTM A179/ASME SA179 Tubes should do Product Analysis test, Hardness test, Mechanical Test, Flattening Test, Flaring Test, Hydrostatic Test or NDT Test if agreed by Client. ASTM A179/ASME SA179 Tubes Shall conform to the applicable requirements of the current edition of Specification A 450/A 450M, unless otherwise provided herein.

We have manufacturing set up, sales and export offices in both India and China to meet the immediate and long term ASTM A179 tubes requirements in Ethiopia. We believe in volume supplies and offer the most competitve prices for ASTM A179 seamless tubes to our customers. At Metline, the price and quality of ASTM A179 seamless tubes is assured.
| | |
| --- | --- |
| Product | A179 Seamless Tubes |
| Size | 1/8 to 3 inch. |
| Thickness | 2.6 to 6mm |
| Payment | L/C or T/T |
| Technique | Cold Drawn |
| Length | 6000mm, 12000mm |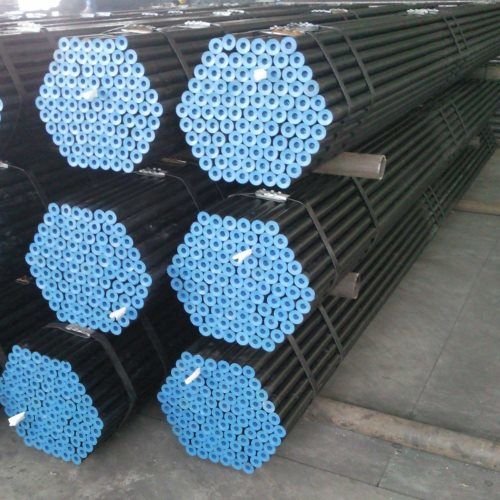 Q: How long is your delivery time for ASTM A179 Seamless Tubes?
A: Generally it is 7-14 days if the goods are in stock. or it is 30 days if the goods are not in stock, it is according to quantity.
Are You Looking for a A179 Seamless Tube Suppliers in Ethiopia?
We are one of the largest A179 seamless carbon steel tube manufacturer, supplier and exporter to Ethiopia. We welcome you to contact us and send us your requirements. Metline specialises in export of ASTM A179 seamless pipes and tubes. We can offer CIF, Ex-Works, DDP delivery terms.
A179 Seamless Heat Exchanger Tubes, A179 Bolier Tube Manufacturers
One of the Largest A179 Tube Suppliers & Exporters – We are a professional manufacturer and just in time supplier for A179 seamless pipes and tubes worldwide. Our carbon steel tube products are designed and manufactured in compliance with international standards and are appreciated for their sturdiness, precise dimensions, durability, finish and corrosion resistance. These carbon steel tubes are available in distinguished sizes (1/4″ to 8″ NB in thk upto 30mm), dimensions and thicknesses to cover the requirements of various industries like power plants, automobile, heavy engineering, offshore and chemical. We stock and supply complete range of carbon steel seamless pipes in range of outside diameter: 1/8 – 36 inch (10.3-914.4mm) Wall Thickness: 1.73-40mm Length: Random Length, Fixed Length, SRL, DRL Steel Grade: API 5L :API 5L: GR B, X42, X46, X56, X60, X65, X70.
If you are looking to choose the best A179 carbon steel tubes manufacturer and supplier, contact us!
Chemical Composition of A179 Seamless Tubes
Grade
Chemical Composition(%)
C
Si
Mn
P
S
ASTM A179
0.06-0.18
≤ 0.25
0.27-0.63
≤0.035
≤0.035
Mechanical Properties of A179 Seamless Tubes
| | |
| --- | --- |
| Grade | ASTM A179 |
| Tensile Strength(MPa) | ≥325 |
| Yield Strength(MPa) | ≥180 |
| Elongation,% | ≥35 |
| Hardness, HRB | ≤72 |
Carbon Steel Seamless Pipes & Tubes Product Range
CARBON STEEL PIPES
ASTM A106 GR. A , B & C API 5L GR. A / B, X42, X52, X60 ASTM A 53 GR. A/B
CARBON STEEL TUBES
ASTM A-179/192 , DIN 17175/2391, ASTM A210
BS 3059/ GR 1 OR GR 2
LOW TEMP SERVICE PIPES
ASTM A 333 GR.1/6
LOW TEMP SERVICE TUBE
ASTM A 334 GR.1/8/6
SIZE RANGE FOR PIPE
½" NB TO 36" NB & SCH 10 TO SCH XXS
SIZE RANGE FOR TUBES
6MM OD TO 220 OD & WALL THK 16 SWG TO 50.8MM
Carbon Steel Welded Pipes & Tubes Product Range
ERW PIPES [BLACK & GALVANISED]
IS-1239, ASTM A 53, API 5L
SIZE RANGE FOR PIPE
½" NB TO 24" NB & SCH 10 TO SCH XXS
½" NB TO 6" NB ,LIGHT, MEDIUM ,HEAVY CLASS
Carbon Steel Pipes Grades Chemical & Mechanical Properties, as per ASTM Standards
Standard
Grade
Chemical Components (%)
Mechanical Properties
ASTM A53
C
Si
Mn
P
S
Tensile Strength (Mpa)
Yield Strength (Mpa)
A
≤0.25
–
≤0.95
≤0.05
≤0.06
≥330
≥205
B
≤0.30
–
≤1.2
≤0.05
≤0.06
≥415
≥240
ASTM A106
A
≤0.30
≥0.10
0.29-1.06
≤0.035
≤0.035
≥415
≥240
B
≤0.35
≥0.10
0.29-1.06
≤0.035
≤0.035
≥485
≥275
ASTM A179
A179
0.06-0.18
–
0.27-0.63
≤0.035
≤0.035
≥325
≥180
ASTM A192
A192
0.06-0.18
≤0.25
0.27-0.63
≤0.035
≤0.035
≥325
≥180
API 5L PSL1
A
0.22
–
0.9
0.03
0.03
≥331
≥207
B
0.28
–
1.2
0.03
0.03
≥414
≥241
X42
0.28
–
1.3
0.03
0.03
≥414
≥290
X46
0.28
–
1.4
0.03
0.03
≥434
≥317
X52
0.28
–
1.4
0.03
0.03
≥455
≥359
X56
0.28
–
1.4
0.03
0.03
≥490
≥386
X60
0.28
–
1.4
0.03
0.03
≥517
≥448
X65
0.28
–
1.4
0.03
0.03
≥531
≥448
X70
0.28
–
1.4
0.03
0.03
≥565
≥483
API 5L PSL2
B
0.24
–
1.2
0.025
0.015
≥414
≥241
X42
0.24
–
1.3
0.025
0.015
≥414
≥290
X46
0.24
–
1.4
0.025
0.015
≥434
≥317
X52
0.24
–
1.4
0.025
0.015
≥455
≥359
X56
0.24
–
1.4
0.025
0.015
≥490
≥386
X60
0.24
–
1.4
0.025
0.015
≥517
≥414
X65
0.24
–
1.4
0.025
0.015
≥531
≥448
X70
0.24
–
1.4
0.025
0.015
≥565
≥483
X80
0.24
–
1.4
0.025
0.015
≥621
≥552
Chemical Composition & Mechanical Properties of Carbon Steel Pipes as per DIN 1629
Standard
Grade
Chemical composition(%)
Mechanical properties
C
Si
Mn
P
S
Tensile Strength (Mpa)
Yield Strength (Mpa)
Elongation(%)
DN1629
St37
≤0.17
–
–
≤0.04
≤0.04
350-480
≥235
≥25
St44
≤0.21
–
–
≤0.04
≤0.04
420-550
≥275
≥21
St52
≤0.22
≤0.55
≤1.60
≤0.04
≤0.035
500-650
≥355
≥21