Carbon Steel Threaded Pipe Fittings Suppliers to Kuwait
Manufacturers of Threaded Pipe Fittings | 90° Elbow, 45° Elbow, Tee, Cross, Coupling, Pipe Cap, Hex Head , Bushing, Hex Head Plug, Square Head Plug, Round Head Plug, Union, Hex Nipple, Street Elbow, Bull Plug, Boss, Swage Nipple, Pipe Nipple, Adapter, Union, Branch Outlet, 90° Elbow Outlet, 45° Lateral Tee, Lateral Outlet, Nipple Branch Outlet
Metline is a prominent manufacturer of forged threaded pipe fittings, made with carbon steel materials: ASTM A105, ASTM A350, ASTM A234, in galvanized or black finish. We produce wide range of carbon steel threaded fittings such as 90° Elbow, 45° Elbow, Tee, Cross, Full Coupling, Half Coupling, Reducing Coupling, Pipe Cap, Hex Head , Bushing, Hex Head Plug, Square Head Plug, Round Head Plug, Union, Hex Nipple, Street Elbow, Bull Plug, Boss, Swage Nipple, Pipe Nipple, Adapter, Union (Male x Female), Branch Outlet, 90° Elbow Outlet, 45° Lateral Tee, Lateral Outlet, Nipple Branch Outlet etc. End Type: Threaded – Size: 1/8" – 4" Standards: ASME B16.11, MSS-SP-79, MSS-SP-83, MSS-SP-95 and MSS-SP-97.

At Metline, carbon steel threaded fittings are produced by forging and machining round bars or steel ingots. The connection form is threaded type, and the steel pipes are inserted into the socket to be threaded with the pipe. Carbon steel threaded fittings are used for high pressure applications, and are produced for piping systems upto size of 4″.

We are devoted to provide the best solutions for our customers in Kuwait City, Al Ahmadi, Hawalli, As Salimiyah, and Sabah as Salim, the biggest industrial and commercial cities of Kuwait. We have manufacturing set up, sales and export offices in both India and China to meet the immediate and long term carbon steel threaded pipe fittings requirements across the State of Kuwait.

We are a carbon steel pipe fittings supplier in Kuwait with extensive production capacity for supply of carbon steel flanges, socket weld fittings, threaded fittings, elbow, tee, stub end, reducer, cap, swaged nipple. Our production size range for carbon steel pipe fittings is from 1/2" – 60". We have adopted advanced production equipment and technologies to manufacture our carbon steel pipe fittings, elbows, tees, pipe reducers, pipe caps, pipe bend, and flanges.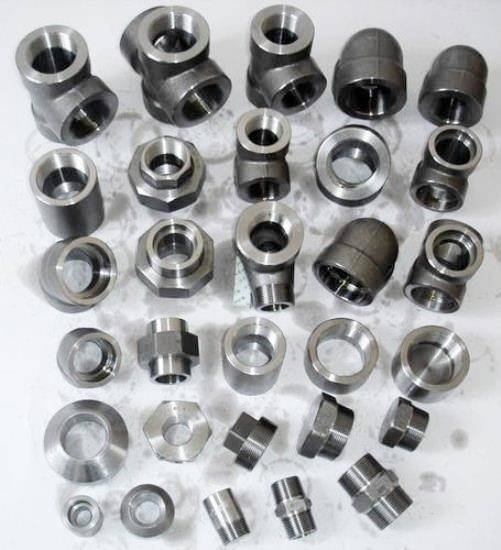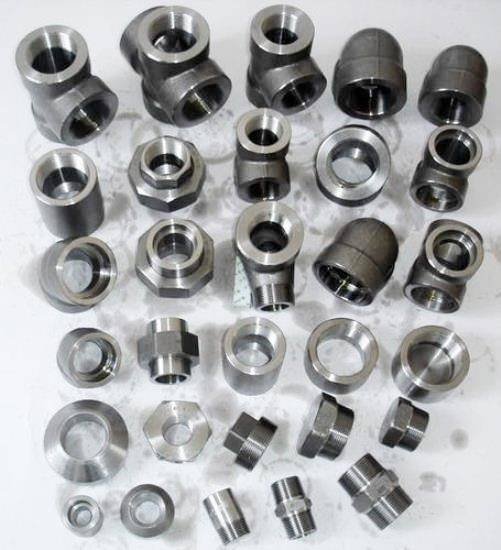 Are You Looking for a Carbon Steel Threaded Pipe Fittings Manufacturers?
We are one of the largest carbon steel threaded pipe fittings manufacturer, supplier and exporter to Kuwait. We welcome you to contact us and send us your requirements. Metline specialises in export of carbon steel threaded pipe fittings to Kuwait. We can offer CIF, Ex-Works, DDP delivery terms. We offer the most competitive prices for carbon steel threaded pipe fittings for our customers in Kuwait.
Carbon Steel Threaded Pipe Fittings: ASTM/ASME A105 / A350 LF2, ASME SA105, A694 – F42, F46, F52, F60, F65, F70
Threaded carbon steel fittings are mainly used for small pipe diameters (Small Bore Piping), generally for piping systems whose nominal diameter is NPS 2 or smaller. Threaded pipe fittings are available in three pressure ratings: Class 2000, 3000 and 6000.
Thread pipe fittings can provide an effective seal for pipes transporting liquids, gases, steam, and hydraulic fluid. Threaded pipe fittings are mainly used in sectors and fields such as petrochemical, medical and health, electric power, aerospace, military, fire, metallurgy, shipbuilding, gas, nuclear power, and environmental protection, which are subject to high pressure and precision.
The material for forged threaded carbon steel fittings conforms to the requirements of ASTM/ASME A105/SA105.
The dimensions for forged carbon steel threaded fittings conform to ASME B16.11
Products are packaged to ensure that there is no damage during transit.
In case of exports,standard export packaging is done in wooden cases.
All fittings and flanges are marked with Grade,Lot No,Size,Degree and our trade mark.
On special requests we can also, make custom marking on our products.
Pressure Rating of Threaded Pipe Fittings, & Respective Pipes to be used:
Description
Class Designation
2000
3000
6000
Elbows 45 and 90 degrees
1/2″ to 4″
1/2″ to 2″
1/2″ to 2″
Tees, Crosses, Coupling
1/2″ to 4″
1/2″ to 2″
1/2″ to 2″
Half-Coupling, Cap
1/2″ to 4″
1/2″ to 2″
1/2″ to 2″
Pipe Wall
SCH 80 / XS
SCH 160
XXS
Production & Supply Range for Carbon Steel Threaded Fittings
| | |
| --- | --- |
| Name | Forged Carbon Steel Threaded Weld Fittings |
| Materials | ASTM A105 / A350 LF2, ASME SA105, A694 – F42, F46, F52, F60, F65, F70 |
| Process | Forged & Machined |
| Size | 1/8″ up to 4″ (DN6~DN100) |
| Pressure Rating | 2000#, 3000#, 6000#, 9000# |
| Types | 90° Elbow, 45° Elbow, Tee, Cross, Full Coupling, Half Coupling, Reducing Coupling, Pipe Cap, Hex Head , Bushing, Hex Head Plug, Square Head Plug, Round Head Plug, Union, Hex Nipple, Street Elbow, Bull Plug, Boss, Swage Nipple, Pipe Nipple, Adapter, Union (Male x Female), Branch Outlet, 90° Elbow Outlet, 45° Lateral Tee, Lateral Outlet, Nipple Branch Outlet |
| Standards | ASME B16.11, MSS-SP-79, MSS-SP-83, MSS-SP-95 and MSS-SP-97. |
| Certification | EN 10204 3.1/3.2 |
High Pressure Forged Carbon Steel Pipe Fittings, Threaded and Socket Weld Pipe Fittings
Products
Size
Carbon Steel 90° Elbows
Carbon Steel Couplings

Sizes 1/8″ – 4″

Pressure Ratings –

2000 LBS, 3000 LBS, 6000 LBS, 9000 LBS

Carbon Steel 45° Elbows
Carbon Steel Reducers
Carbon Steel Street Elbows
Carbon Steel Inserts
Carbon Steel Tees
Carbon Steel Caps
Carbon Steel Crosses
Carbon Steel Unions