P9/9 Cr-1 Mo Alloy Steel Pipe Manufacturers & Suppliers in Mexico
Manufacturer & Exporter of A335 Gr. P9 Alloy Steel Pipes or Chrome Moly Pipes to Mexico in Size Range of 1″ to 48″. We Export P9 Alloy Steel Pipes to Our Customers in Mexico City, Ecatepec, Guadalajara, Puebla, Juárez, Tijuana, León and Zapopan among others. 

A335 Gr. P9 Alloy Steel Pipes in Size 1″ to 48″ in thickness Upto 40mm.

A234 WP9 Buttweld Fittings, Elbow, Tee, Reducer, U Bends are Available in Size Range of 1″ to 48″.

A182 F9 Forged Flanges are Available in Size Range of 1″ to 48″, with nut, bolts and gaskets.

Prices for 9Cr1Mo (P9) alloy steel pipes ranges from US$4.0/Kg to US$7.0/Kg depending on the diameter, thickness, length and quantity of pipes.

100% Quality Guaranteed, with Competitive Prices – PED Certified, ISO Certified, Major TPI and Approvals, OHSAS Certified.

P9 Alloy Steel Pipe Factory, P9 Alloy Steel Pipe Suppliers in Mexico, P9 Chrome Moly Pipe, P9 Alloy Steel Pipe Mill, P9 Alloy Steel Pipe Manufacturers, Large Diameter P9 Alloy Steel Pipe, P9 Boiler Tubes, P9 Heat Exchanger Pipes, P9 High Wall Thickness Pipes, P9 Heavy Wall Thickness Pipes, P9 Alloy Steel Pipes for Refineries, P9 Alloy Pipes for Oil & Gas Applications, 9 Cr-1 Mo Steel Pipe, 1.7386 Alloy Steel Pipes
We are a specialized manufacturer, stockist and supplier of A335 P9 alloy steel pipes in Mexico. P9 alloy steel pipes contain 9% chromium and 1% molybdenum, and offer minimum tensile strength of 415 MPa and yield strength of 205 MPa. The available data suggests that the 9Cr-1Mo steel pipes or P9 grade alloy pipes have excellent fabrication properties and adequate long term strength, making it a suitable choice for use in high temperature erosive refinery service applications. An equivalent material to A335 Gr. P9 or ASTM A387 grade 9  alloy steel includes DIN 1.7386 and X12 CrMo 9 1.

P9 alloy steel pipes are used for manufacturing boilers and heat exchangers, and are generally suitable for bending, flanging, and similar forming operations, and for fusion welding.

With a collective experience of over 30 years, we have emerged as one of the largest just in time exporter of P9 alloy steel pipes to Mexico. ASTM A335 P9 alloy steel pipes are used in conjunction with ASTM A234 WP9 buttweld fittings, A234 WP9 elbow, A234 WP9 Tee, A234 WP9 reducer, A234 WP9 180 Degree U bends, and A182 F9 forged fittings and flanges. All these materials have similar chemical (Chrome, Moly, Nickel) and mechanical properties and can be easily welded and installed on site.

We are devoted to provide the best solutions for our customers in Mexico City, Ecatepec, Guadalajara, Puebla, Juárez, Tijuana, León and Zapopan, the biggest industrial and commercial cities of Mexico. We have manufacturing set up, sales and export offices in both India and China to meet the immediate and long term alloy steel pipe requirements across Mexico. We aim at offering high quality but competitive price chrome moly P9 pipes for our global customers.
Professional Manufacturer of Alloy Steel P9 Pipes and Tubes, P9 U-Tubes, 9Cr-1Mo Steel Pipes and Tubes
Welded Alloy Steel Pipe, Size Range: 1/8″ to 48″
Seamless Alloy Steel Pipes, Size Range: 1/8″ to 48″
Thickness – SCH 20, 30, 40, STD, XH, 80, 100, 120, 140, 160, XXH, WT is 2.11mm – 40mm
Additional Services: Fusion Bond Epoxy, Galvanizing, 3LPE, Tar Epoxy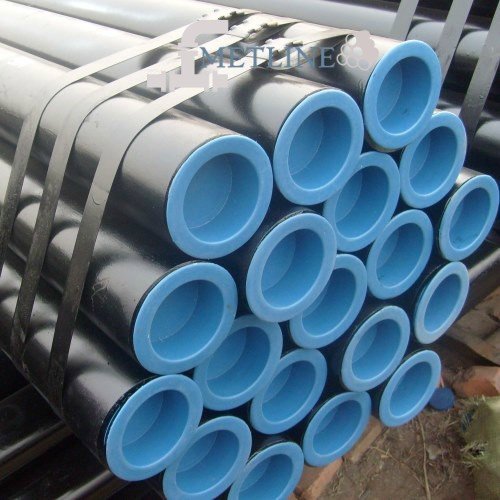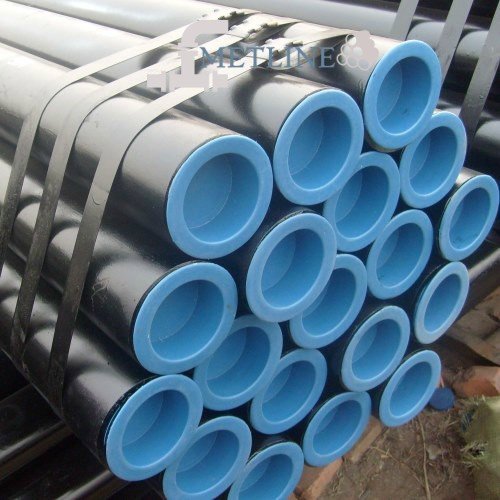 Are You Looking for a 9Cr1Mo/P9 Alloy Steel Pipe Supplier in Mexico?
We are one of the largest P9 alloy steel pipe factory, supplier and exporter in Mexico. We welcome you to contact us and send us your requirements. Metline specialises in export of alloy steel P9 pipes to Mexico. We can offer CIF, Ex-Works, DDP delivery terms.
| | |
| --- | --- |
| Product | P9/9Cr-1Mo Alloy Steel Seamless Pipes |
| Specification | ASTM A335, ASME SA335 |
| Grade | P9 |
| Size | 2″ to 48″ |
| Thickness | 2.11 mm to 160 mm |
| Type | Seamless, Hot Rolled, Cold Drawn |
| Test Certificates | EN 10204 3.1 |
| Length | 6 MTR, 12 MTR, Custom |
Equivalent Grades & Applications for P9 Alloy Steel Pipes or 9Cr-1Mo Steel Pipes
Material Group
Common Name
Type
UNS
Forging Spec.
Casting Spec. Equivalent
DIN
DIN W. No
Application
Low Alloy Steel
Moly Steel
C-1/2Mo
K12822
A182-F1 cl2
A217-WC1
15M03
1.5415
Up to 470ºC* (875ºF)
Alloy Steel Chrome Moly
1.1/4Cr-1/2Mo
K11572
A182-F11 cl2
A217-WC6
13CRM044
1.7335
Up to 593ºC (1100ºF)
2.1/4Cr-1Mo
K21590
A182-F22 cl3
A217-WC9
10CRM0910
1.738
Up to 593ºC (1100ºF), High Pressure Steam
5Cr-1/2Mo
K41545
A182-F5/F5a
A217-C5
12CRMO195
1.7362
High Temperature Refinery Service
9Cr-1Mo
K90941
A182-F9
A217-C12
X 12 CrMo 9 1
1.7386
High Temp Erosive Refinery Service
9Cr-1Mo-V
A182-F91
A217-C12A
X 10 CrMoVNb 9 1
1.4903
High Pressure Steam
Effect of Alloy Elements on P9 Alloy Steel Pipes
Compared with the traditional petroleum cracking used seamless steel pipe, such as low alloy steel P11, P22, P5, the chemical composition of 9CrlMo (P9) has a higher content of Cr which reach an average content of 9% and the content of Mo element in an average of 1.0%.
The content of chromium has a benefit of improving the material high temperature oxidation corrosion resistance and high temperature strength.
The content of moly is to enhance the recrystallization temperature of solution matrix and enhance the high temperature strength, which has a benefit to improve the heat resistant strength of steel.
The content of C (carbon) is less than 0.15%, which is beneficial to welding. And other elements, the content of manganese (Mn) is 0.30-0.60%, which is used for deoxygenation and desulfurization, it's helpful to improve the quality of steel.
The content of Si (silicon) is 0.25-1.0% which has high deoxidization ability, at the same time heat resistant steel containing silicon will form a dense and good protective oxide film under the high temperature to improve steel oxidation resistance.
Low contents of S and P, especially low S content, are helpful to enhance hydrogen sulfide stress corrosion resistance.
Therefore, 9CrlMo(p9) compared with traditional petrochemical steel has better resistances to high temperature oxidation, hydrogen sulfide stress corrosion and has advantages of high temperature resistance strength and so on, can be used for large petrochemical equipment.
ASTM A335 is a standard specification for seamless ferritic alloy-steel pipe for high-temperature service. The specification generally covers "chrome-moly" seamless pipes with remarkable resistance to corrosion and good tensile strength at high-temperature service. The testing requirements for these pipes include the following:
Transverse/longitudinal: tension and flattening, hardness, bend tests- for material which has been heat-treated in batch furnaces, these tests shall be made on the 5% of the pipes from each heat lot number. For smaller lots, one pipe at a minimum has to be tested
ASTM A335 Gr. P91 shall have a hardness of 250 HB / 265 HV (25 HRC)
Hydro testing: shall be applied to every length of pipe
The non-destructive electric test is optional
Equivalents of Alloy Steel Pipes Under DIN, ASTM and EN
| | | |
| --- | --- | --- |
| DIN | EN | ASTM |
| 1.5415 | 16Mo3 | A335 Grade P1 |
| 1.7335 | 13CrMo4-5 | A335 Grade P11, P12 |
| 1.738 | 10CrMo9-10 | A335 Grade P22 |
| 1.7362 | X11CrMo5 | A335 Grade P5 |
| | | A335 Grade P9 |
| 1.4903 | X10CrMoVNb9-1 | A335 Grade P91 |
Chemical Composition of Alloy Steel Chrome Moly Pipes – ASTM A335 P5, P9, P11, P22, and P91
| | | | | | | | |
| --- | --- | --- | --- | --- | --- | --- | --- |
| Grade | C | Mn | P | S | Si | Cr | Mo |
| P5 | 0.15max | 0.30-0.60 | 0.025 | 0.025 | 0.50 max | 4.00-6.00 | 0.45-0.65 |
| P9 | 0.15 max | 0.30-0.60 | 0.025 | 0.025 | 0.25-1.00 | 8.00-10.00 | 0.90-1.10 |
| P11 | 0.05-0.15 | 0.30-0.60 | 0.025 | 0.025 | 0.50-1.00 | 1.00-1.50 | 0.44-0.65 |
| P22 | 0.05-0.15 | 0.30-0.60 | 0.025 | 0.025 | 0.50 max | 1.90-2.60 | 0.87-1.13 |
| P91 | 0.08-0.12 | 0.30-0.60 | 0.02 | 0.01 | 0.20-0.50 | 8.00-9.50 | 0.85-1.05 |
| | V 0.18-0.25 | N 0.03-0.07 | Ni 0.40 max | Al 0.02 max | Cb 0.06-0.10 | Ti 0.01 max | Zr 0.01 max |
Mechanical Properties of Alloy Steel Chrome Moly Pipes – ASTM A335 P5, P9, P11, P22, and P91
| | | |
| --- | --- | --- |
| | Grade P11, P22, P5, P9 | Grade P91 |
| Tensile strength, min, psi, (MPa) | 60,000 (415) | 85,000 (585) |
| Yield strength, min, (MPa) | 30.000 (205) | 60,000 (415) |