Carbon Steel Pipe Fittings Manufacturers, Suppliers & Exporters to Nigeria
Manufacturer of Carbon Steel Pipe Fittings | Flanges | Elbow | Bends | Tee | Reducer | Threaded Fittings | Socket Weld Fittings | Fasteners | Nuts & Bolts – PED Certified, ISO Certified, Major TPI and Approvals, OHSAS Certified
Metline is known as one of the professional carbon steel pipe fittings manufacturers who can offer you pipes, buttweld fittings, forged fittings, and fasteners at competitive prices in Nigeria. The most common types of carbon steel pipe fittings which we manufacture include flanges, forged fittings, threaded fittings, pipe elbow, tee, reducers, cap, stub ends and special size pipe bends in both seamless and welded (100% X-Ray Tested/Radiography) form. We can offer various types of carbon steel fittings with nut bolts, fasteners and gaskets.

In case of custom size fabricated buttweld pipe fittings, the welding is done is carried out by qualified personnel. Buttweld fittings are generally supplied with beveled ends in accordance with to ASME B16.25. Our valve products include ball valve, butterfly valve, check valve, gate valve, globe valve, plug valve, and strainer etc in various materials, sizes, standards and types.

We are devoted to provide the best solutions for our customers in Lagos, Kano, Ibadan, Abuja, Benin City, Ilorin, Jos, Kaduna, Enugu and Warri, the biggest industrial and commercial cities of Nigeria. We have manufacturing set up, sales and export offices in both India and China to meet the immediate and long term carbon steel buttweld pipe fittings requirements across the Federal Republic of Nigeria.

We are a carbon steel pipe fittings supplier in Nigeria with extensive production capacity for supply of carbon steel flanges, socket weld fittings, threaded fittings, elbow, tee, stub end, reducer, cap, swaged nipple. Our production size range for carbon steel pipe fittings is from 1/2" – 60". We have adopted advanced production equipment and technologies to manufacture our carbon steel pipe fittings, elbows, tees, pipe reducers, pipe caps, pipe bend, and flanges. Our products have high strength, good toughness and resistance to corrosion.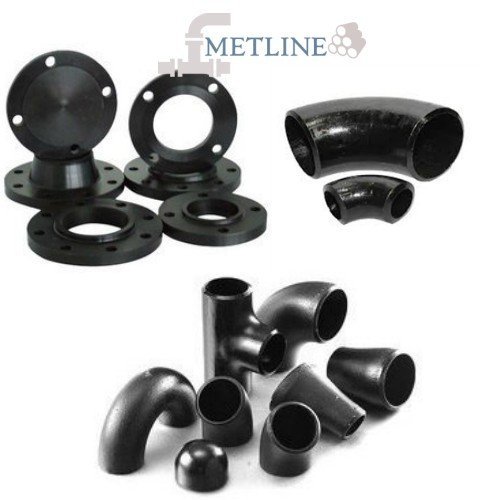 Are You Looking for a Carbon Steel Pipe Fittings Supplier in Nigeria?
We are one of the largest carbon steel pipe fittings manufacturer, supplier and exporter to Nigeria. We welcome you to contact us and send us your requirements. Metline specialises in export of carbon steel pipe fittings to Nigeria. We can offer CIF, Ex-Works, DDP delivery terms. We offer the most competitive prices for carbon steel pipe fittings for our customers in Nigeria.
Production & Supply Range for Carbon Steel Pipe Fittings
| | |
| --- | --- |
| Product Name | Carbon Steel Pipe Fittings |
| Form | Buttweld Fittings, Forged Fittings, Flanges, Fasteners, Gasket, Nuts & Bolts |
| Type | Seamless, Welded, Fabricated |
| Size | 1/2″ up to 60″ |
| Thickness | SCH10, SCH20, SCH30, SCH40, STD, SCH80, XS, SCH120, SCH160, XXS |
| Grades | ASTM A234 WPB, A420 WPL3, A420 WPL6, MSS-SP-75, WPHY 42/46/52/56/60/65/70 |
| Specifcation | ASME B16.9, MS SP-43, MS SP-45, MS SP-97, ANSI B16.5, ANSI B16.11, EN, DIN |
| Certification | EN 10204 3.1/3.2 |
Carbon Steel Buttweld Pipe Fittings Production Range
| | |
| --- | --- |
| Grade Specification | Carbon Steel: ASTM/ASME A234 WPB / A860 – MSS-SP-75 WPHY 42 / 46 / 52 / 56 / 60 / 65 / 70, Low temperature Steel: A420 WPL3 / A420 WPL6 |
| Type | Seamless / Welded / Fabricated |
| Bending Radius | R=1D, 2D, 3D, 5D, 6D, 8D, 10D or Custom |
| Range | ½"NB to 48″NB in Sch 10s, 40s, 80s, 160s, XXS. |
| Dimensions | ANSI/ASME B16.9, B16.28, MSS-SP-43. |
Types of Buttweld Carbon Steel Pipe Fittings – Seamless/ Welded 100% Radiography Tested
Products
Size
Carbon Steel Elbows – Long Radius
Carbon Steel Stub Ends

Sizes 1/2″ – 48″

Carbon Steel Elbows – Short Radius
Carbon Steel Crosses
Carbon Steel Reducing Elbows
Carbon Steel Reducing Crosses
Carbon Steel 45° Elbows
Carbon Steel 180° LR Return Bends
Carbon Steel Tees
Carbon Steel 180° SR Return Bends
Carbon Steel Tees
Carbon Steel Pipe Bends / Piggable Bends
Carbon Steel Reducers
Carbon Steel Couplings
Carbon Steel Concentric Reducers
Carbon Steel Pipe Nipples
Carbon Steel Eccentric Reducers
Carbon Steel Forged/Plate Cut Rings
Carbon Steel 3D Elbow
Carbon Steel End Caps
Carbon Steel 5D Elbow
Carbon Steel Forged / Plate Circles
High Pressure Forged Carbon Steel Pipe Fittings, Threaded and Socket Weld Pipe Fittings
Products
Size
Carbon Steel 90° Elbows
Carbon Steel Couplings

Sizes 1/8″ – 4″

Pressure Ratings –

2000 LBS, 3000 LBS, 6000 LBS, 9000 LBS

Carbon Steel 45° Elbows
Carbon Steel Reducers
Carbon Steel Street Elbows
Carbon Steel Inserts
Carbon Steel Tees
Carbon Steel Caps
Carbon Steel Crosses
Carbon Steel Unions
Carbon Steel Flanges, Forged and Plate Flanges Production Range
| | |
| --- | --- |
| Grade/Specification | ASTM A105 / A350 LF2, ASME SA105, A694 – F42, F46, F52, F60, F65, F70, A36, A516 Gr. 70, 60 etc. |
| Standard | ANSI Flanges, ASME Flanges, BS Flanges, DIN Flanges, EN Flanges, etc. |
| Size | ½" to 36″ |
| Dimensions | ANSI/ASME B16.5, B 16.47 Series A & B, B16.48, BS4504, BS 10, EN-1092, DIN, etc. |
| Class / Pressure | 150#, 300#, 600#, 900#, 1500#, 2500#, PN6, PN10, PN16, PN25, PN40, PN64 etc. |
Types of Carbon Steel Flanges
Product
Size
Carbon Steel Slip-On Flanges
Carbon Steel Threaded Flanges

1/2″ – 36″

Raised Face or Flat Face

Carbon Steel Weld Neck Flanges
Carbon Steel Socket Weld Flanges
Carbon Steel Blind Flanges
Carbon Steel Reducing Flanges
Carbon Steel Lap Joint Flanges
Carbon Steel Plate Flanges